In Association With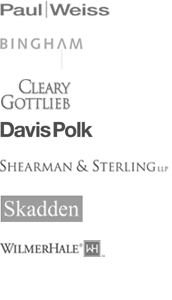 Continuing Legal Education (CLE)
Citi's legal department provides a wide range of Continuing Legal Education (CLE) opportunities both in-house and at major external CLE providers such as PLI. In addition, some of the businesses host specifically-tailored CLE panel discussions that cover key regulatory, compliance and other matters.
Diversity
One of the most important elements of Citi's leadership has been our longstanding commitment to diversity. For our clients, our diversity means a workforce that is 98 percent local in the 100 countries in which we operate, with employees who understand our clients' needs and aspirations. For our employees, it is a culture where the best people want to work, where people are promoted on their merits, where we treat each other with dignity and respect, and where opportunities to develop are widely available to all—regardless of differences.
Learn more about our commitment to diversity
Pro Bono
Citi is committed to taking an active role in the communities around the world in which we live and work. The CitiLegal Pro Bono Initiative encourages attorneys to get involved by providing pro bono legal services. We are committed to the success of this initiative. We have established pro bono steering committees to develop opportunities to help individuals and organizations in need of legal services. We encourage our attorneys to participate in pro bono opportunities - either through existing projects or ones they have developed on their own.
Recent Highlights
Citi Recognized at 40th Anniversary of Lawyers Alliance for New York– In May 2009, Lawyers Alliance recognized Michael Helfer, Citi's General Counsel, on behalf of the Legal Department at Citi, as an outstanding partner in public service.
Family Court Project - Citi attorneys meet with unrepresented, low-income individuals to discuss their legal issues at a bimonthly clinic at the New York State Family Court in partnership with Greenberg Traurig. The legal clinics address issues of child support, paternity and guardianship.
Citi Lawyers Assist PILPG - Attorneys in New York and Duluth participated in a research and writing project with Baker & McKenzie and the Public International Law and Policy Group (PILPG). PILPG is a global pro bono law firm that provides assistance to states and governments involved in conflict. The group produced a document that described the role of international facilitators in peace negotiations in areas such as Darfur, Northern Ireland, Bosnia and Rwanda.
The Door - Citi attorneys staff monthly legal clinics with Paul, Weiss for young people at The Door, assisting with issues pertaining to the rights of undocumented youth, public benefits, family law, housing and employment. The Door proves comprehensive youth development services, including health care, legal services, GED classes and homework help, for over 8,000 young people each year.
Workshop in Business Opportunities- Citi volunteers act as discussion leaders for portions of WIBO's sixteen-week workshop, where they teach particular sessions or act as discussion leaders for microentrepreneurs in underserved communities looking to start or manage their business. As discussion leaders, volunteers introduce students to various aspects of starting and managing a business. Lawyers also volunteer to staff a monthly legal clinic to provide legal advice to WIBO entrepreneurs.
Briarwood Shelter Legal Clinics - Citi is working with the New York City Bar Justice Center and the Briarwood Family Residence in Queens to staff a monthly clinic for homeless shelter residents on city, state and federal benefits issues. Citi staff also provides representation before administrative law judges to contest benefits decisions on behalf of homeless families.
Citi Lawyers Participate in Election Protection - On Election Day, several Citi lawyers and paralegals staffed a non-partisan voter hotline for voters across the country and served as mobile legal volunteers to monitor poll stations. Election Protection is associated with pro bono partner Lawyers' Committee for Civil Rights Under Law and is the nation's largest non-partisan voter protection coalition.