Spotlight

Inside Counsel
Innovation
Inside Counsel magazine names Citi as one of the top 10 most innovative legal departments... (more)
In Association With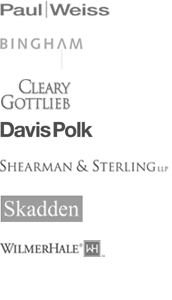 Citi — one of today's preeminent financial services companies — is offering a small, highly select group of law students an unparalleled opportunity to jump-start their careers. Partnering with several forward-thinking law firms in New York, we have created CitiSelect, an innovative career track with unmatched benefits.
CitiSelect is much more than just another summer- or first-year associate program. We're looking to groom our next generation of legal executives by investing in them from day one. Each summer associate who is offered and accepts a permanent position will receive compensation comparable to that of the law firms associated with the program. Selected participants will also receive an incentive payment post-graduation*.
As an Equal Opportunity Employer committed to the principles of diversity, we encourage candidates of diverse backgrounds to apply.
The CitiSelect Career Track
Summer Internship
A summer associate position in New York, split between Citi Legal and one of our associated top-tier law firms
Up to Three Years of Top Law-Firm Training
Upon graduation, up to three years of legal experience at the same law firm, as well as training from Citi executives
In-House Legal Position with Citi
A position at Citi commencing with intensive training modules for selected career tracks
Unmatched Career Opportunities
Virtually endless career possibilities with one of the most diverse global financial-services firms
* More information regarding the incentive payment will be made available during the interview process.